Grab your book, blanket and beanie – we're hibernating with books this winter!
Calling all early risers, morning motivators, lunchtime readers, after work relaxers, and bedtime snugglers - incorporate reading into your daily routine with the Warm Winter Read.
Start a book from your TBR pile, finish that book you put down months ago, or find something new while browsing the library shelves - the Warm Winter Read is waiting for you!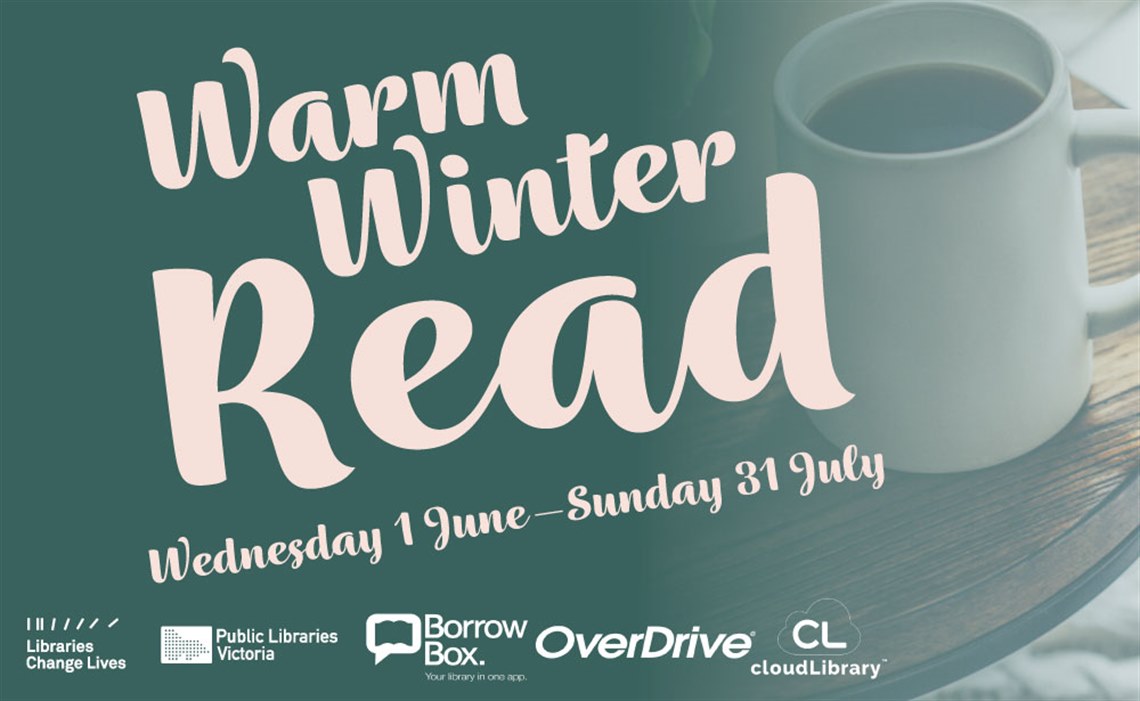 What is the Warm Winter Read?
The Warm Winter Read aims to encourage adult readers across Victoria to create healthy reading habits by tracking days read over June and July 2022.
It runs from Wednesday 1 June - Sunday 31 July.
Am I eligible to participate?
If you are 16 years or older, then yes! You do not need to be a Glen Eira Libraries member to participate, but if you are not - then please join up! 
If using Beanstack, yes.
You can participate in any of the following ways:
Head to the

 

Beanstack

 

website and register for an account
Download the

 

Beanstack

 

Tracker app from Google Play or the App Store
Or collect a Warm Winter Read paper tracker from any Glen Eira Libraries branch and track your reads manually.
You can of course always check in with a librarian for more information about the Warm Winter Read.
Beanstack Privacy Notice
Should you wish to participate in Warm Winter Reads, (1) you will need to consider registering on Beanstack's US based website, (2) you should read the Beanstack Privacy Policy and only join up if you are comfortable with the terms and conditions, and (3) in so doing, you need to be aware that you are choosing to enter an online environment which is outside the protections of Glen Eira City Council's Privacy Policy, and do so at your own risk.
Is there a paper tracker available?
Absolutely.
If you would prefer to track your reads manually, just pop into any Glen Eira Libraries branch and collect a Warm Winter Read paper tracker.
The tracker is designed as a bookshelf for you to colour in a book for every day you read. 
These do not need to be returned to us at the library - just keep it as a record of your reading achievements over winter! 
I need some inspiration. Can you help?
Sure we can - let us inspire you!
Collect bookmarks with recommended reads from Victorian authors including Jane Harper, Jock Serong, Maxine Beneba Clare, Toni Jordan, Rebecca Lim, Claire G Coleman, Helen Garner and Christos Tsiolkas, from any Glen Eira Library branch.
We also encourage you to work through eight fun little challenge activities as you progress. Fun stuff like:
1 – Choose something to read - try a Victorian writer, ask us for a recommendation!
2 – Swap some screen time for reading time
3 – Read outside your home
4 – Read aloud to a pet, person or plant
5 – Snuggle up with your read
6 – Read while doing something else; commuting, waiting, doing chores (ebooks/audiobooks are great for this!)
7 – Talk about what you're reading in person or online
8 – Choose something else to read! Choose what to read next!
Join the conversation online by sharing your progress through the eight activities using #WarmWinterRead
I would like to chat with others about what I'm reading. How can I do that?
So glad you asked - there are lots of ways!
Chat to your local librarian at any Glen Eira Libraries branch
Join our monthly online Books and Brews session, held on the first Tuesday of every month, 6.30pm - 7.10pm. No need to register - just grab a cuppa and join in.
Check out our Cover 2 Cover Book Club program
And remember to tag us in all your reading posts using @gleneiralibraries and #WarmWinterRad